The Doctor Who blog has confirmed that Jenna Coleman's replacement will be confirmed tomorrow during Match of the day Live, which is to be broadcast between 16:50 and 19:15. Now, "companion" isn't a word I like to use, because it has too loose a meaning to be indisputable, but that's irrelevant in this case: whoever it is will be on-board for all episodes of season thirty-six (Showrunner: Steven Moffat), and therefore this particular character's status as a companion can't be argued. So that all being said, I've been collecting every name brought-forward as a possible choice. I only take so many of them seriously, but they're all at least "interesting", nonetheless:
Rakhee Thakhar
Michelle Keegan
April Pearson
Maisie Williams
Ingrid Oliver
Michelle Gomez
Alex Kingston
Jovian Wade
John Barrowman
Lily James
Gugu Mbatha-Raw
Colin Morgan
Asa Butterfield
Rose Leslie
Sophie McShera
Gemma Chan
Kaya Scodelario
Holliday Grainger
Thomas Brodie-Sangster
Jessica Brown Findlay
Scarlett Moffatt
Amy James-Kelly
Kimberley Nixon
Bel Powley
Georgina Campbell
Faye Marsay
Luke Newberry
Michaela Coel
Aisling Loftus
Charlie Murphy
Charlotte Spencer
Wunmi Mosaku
Ciara Baxendale
Dan Cohen
Kerrie Hayes
Chloe Pirrie
Alan Shearer
Zawe Ashton
Pearl Mackie
Cara Delevigne
Frank Skinner
Gillian Anderson
Personally, I don't really care who it is if they're a good actor, and there are lots of those. Peter Capaldi is the best Doctor Who casting choice since William Hartnell, so maybe his companion will follow suite? A lot of the suggested names have already featured in Doctor Who before:
Maisie Williams as Ashildr
Ingrid Oliver as Petronella Osgood
Michelle Gomez as the Mistress
Alex Kingston as River Song
Jovian Wade as Jonathan "Rigsy" Higgins
John Barrowman as "Jack Harkness"
Gugu Mbatha-Raw as Letitia Jones
Colin Morgan as Jethro Cane
Gemma Chan as Mia Bennett
Thomas Sangster as Tim Latimer
Faye Marsay as Shona McCullough
Zawe Ashton as Journey Blue
Frank Skinner as Perkins
However, Capaldi said that Coleman's successor will be someone he's worked with before, which excludes Barrowman, Mbatha-Raw, Morgan, Chan and Sangster. But that's assuming that the new companion will even be a returning character. And they shouldn't be. Sarah Jane Smith deserves to be as popular as she is, but for that to happen, she first had to be created.
Doctor Who should go forwards, not backwards. Which isn't to say I'd have a problem with a previous Doctor Who actor being cast as a new character, just nobody from the Capaldi era, because that's pushing the suspension of disbelief a bit too far, even for Doctor Who. Take Karen Gillan for instance – spends two-and-a-half seasons with Matt Smith, but was in a David Tennant episode (with Peter Capaldi) as a completely different character. But ultimately, I'm not a casting director, so Andy Pryor CDG will have a much more informed opinion than me because watching as many actors as possible is kinda his thing.
Whoever they go with, it's important that the new companion is female. Given the standard set-up is becoming the Doctor and a single companion, not using that as a chance to have a series lead by a male and female would be idiotic. And since Capaldi is male, not making his next companion female would be missing that opportunity. I'd only be willing to accept a male companion if there were already a female companion present – such as with Gillan & Arthur Darvill, Freema Agyeman & Barrowman and Billie Piper & Bruno Langley.
And for the record, a companion doesn't need to be male for me to relate to them; I could relate to Piper's Rose Tyler just fine. Honestly, in a single Doctor/single companion relationship, the single companion should only be male if the Doctor's female, but that's a different argument entirely. Either way, the name everyone's tossing-around right now is Thakhar, and these things often turn-out to be correct. If Thakhar's announced tomorrow, all I'll care about is whether she's a good actor.
There's no reason to feel resentful, because I have no desire to be cast as the next companion, so she's not taking anything away from me. As it is, I'd go for either Charlie Covell or Tatiana Maslany. Then all we have to do is cast Steve Coogan as the Thirteenth Doctor, and then we have the best working actors from their sexes. Or, in Maslany and Coogan's case, the best actors from either sex.
One other thing: how's Chris Chibnall involved with this? Given he'll be taking-over from Moffat for season thirty-seven, I doubt there won't have been some discussion about how long the new companion will last. If, like Agyeman's Martha Jones and Catherine Tate's Donna Noble, they're a single-season companion, that means their exit is already planned in fourteen episodes' time. And if they're carrying-over to Chibnall's production – how involved was Chibnall in this decision?
But let's not get ahead of ourselves. If Chibnall was involved in the process, we'll surely see him during the broadcast. We'll all find out tomorrow. What I love is that it's being shown during half-time of a football game: it targets a different demographic, who won't follow Doctor Who news like we will, and will probably get good ratings at the same time.
In an interview with the Evening Standard, Williams confirmed she's not the new companion:
I'm not returning. I can say that. It's not a secret.
Meanwhile, Betfair have announced that the closest odds were on Campbell, but are now on Mackie, with odds of 4/6. This mimics the way most bets were suddenly placed on Matt Smith the day before his reveal in Doctor Who Confidential – The Eleventh Doctor, and on Peter Capaldi the day before his reveal in Doctor Who – The Next Doctor. Campbell's Twitter feed has also recently followed Agyeman (@FreemaOfficial), as well as Coleman (@Jenna_Coleman_) and Pryor (@pryorandy). But then she's also recently followed Don Cheadle (@DonCheadle), so there's that.
Mackie's currently starring in the West End until June, when the Christmas special's due to begin shooting next month in May. But Radio Times are reporting that the Christmas special won't feature the new companion, who'll début in the season thirty-six première. Was the sudden following of preceding Doctor Who companions so close to the reveal of the next one a deliberate attempt at publicity? Because it at least worked.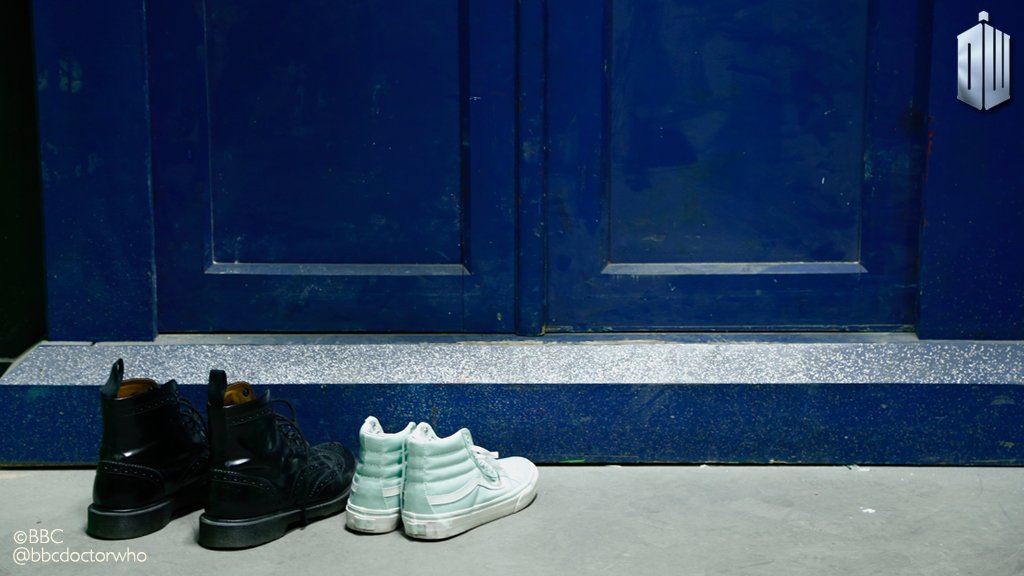 As the above image video show, the new companion has significantly smaller feet than Peter Capaldi. Could they be a child? And if so, would that mean they'd be a relative of the Doctor? The reason Susan Foreman is the Doctor's granddaughter is because the First Doctor is so old and the BBC didn't want to suggest anything creepy.
The event's being called #MatchOfTheDayOfTheDoctor. I'll be filming my live reaction, followed by a verdict the day after. I might go back and watch Doctor Who Confidential – The Eleventh Doctor, followed by Doctor Who Live – The Next Doctor. This would have to happen in the week I have a coursework deadline.