Some time ago, RYAN CHEDDI published a piece on Games With Coffee about hidden gem PlayStation games and it inspired me to write my version. I'm primarily into racing games, so I decided to embrace that unique interest by focusing on those specifically.
I've only included 6 games instead of 7. The 7th would've been the port of the arcade game Ridge Racer, because a surprising amount of people aren't aware that it exists, but I decided that ports shouldn't count.
6. Demolition Racer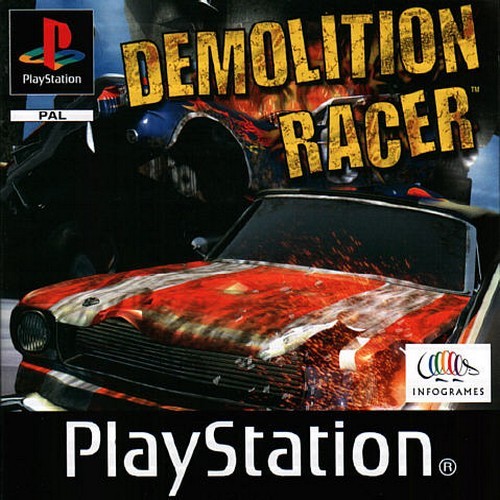 Demolition Racer was released at same period as Demolition Derby, so it competed for an audience that ultimately chose its rival. Rather than winning races conventionally, you can become the de facto survivor by destroying your opponents. You can customise the colours and decals of your vehicles, as happens in real destruction derbies. It's like a spiritual prototype to Burnout 3: Takedown. In my childhood, this was always my party guests' favourite.
5. London Racer
It's called "London Racer" because "Home Counties Racer" doesn't have the same ring to it. No, it's not a very good game but it's worth playing for how weird it is. Stereotypical British eccentricities are exaggerated, meaning that any sense of excitement is completely downplayed. Yes, you're in a race, but you're not going to make a big deal about it. I just love that it exists.
4. Muppet RaceMania
This was the first video game I played. Its critics might call it a cash-in on Mario Kart, but there are some fundamental differences: characters can be unlocked by finding Easter eggs in hidden routes, on tracks that are based on locations from Muppet films. Extracts of those films featuring the corresponding locations are played as introductions to the tracks. It's about time that this title was revived with locations from the later Muppet films included and Walter as a playable character.
3. TOCA World Touring Cars
This was the first touring car game and was as good as it could be for a game with that premise and this console (even if it doesn't actually feature the real Touring Car Championship). It's an evolution of Sega's Daytona games into a competitive simulator with technical setup. It broke no new ground for the racing genre but remains more than a footnote in its history.
2. The Dukes of Hazzard: Racing for Home
Yes, this game really exists, terrifying character models and all. The overall design resembles Demolition Racer but the physics engine has less regard for gravity. Publishers "Ubi Soft" seem to have a wanted a game about driving the General Lee, with nothing else being important. There is in fact more to The Dukes of Hazzard than just the General Lee – even if it is the breakout icon of the series. Most people remember The Dukes of Hazzard in video games from The Dukes of Hazzard: Return of the General Lee, but forget this one that came before. I suppose it's even more of a hidden gem now, what with the censorship of artworks depicting the Confederate Flag and General Lee.
1. Colin McRae Rally
As a technical game, Colin McRae Rally was advanced for its time. It developed the groundwork laid by Sega Rally Championship into a simulator and away from an arcade style. McRae has won more World Rallies than any other British World Rally driver and provided input into the game – that's why it's so realistic. After 4 sequels, the Colin McRae Rally series was re-branded as Colin McRae: Dirt, which became simply Dirt, dropping Colin McRae's name entirely. While the Dirt games are now compared with Gran Turismo or Forza, Colin McRae Rally is the game that started it all, yet is now forgotten by modern players.
Demolition Racer is property of Atari, SA. London Racer is public domain. TOCA World Touring Cars and Colin McRae Rally are property of The Infogrames Software Company Limited. The Dukes of Hazzard: Racing for Home is property of Ubisoft Entertainment SA.